posted 29 Mar 2021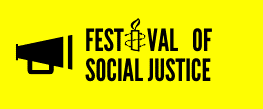 Local Amnesty International Group Joins Festival of Social Justice
Stamford and Rutland Amnesty International group is to take part in an online Festival of Social Justice featuring talks, music, debates and celebrations which will be streamed into people's homes.
The Festival of Social Justice between April 16 and May 31 brings together the 40 local Amnesty International groups across Central England in an exciting programme of events. These include speakers, music, poetry evenings, photography exhibitions, theatre, panel discussions and the chance for local activists to 'stand' on a virtual soapbox and share what social justice means to them.
The festivals feature many other collaborating community organisations – all participating to spread the word about social justice and human rights and to engage as many people as possible in campaigning actions.
Secretary of the Stamford and Rutland Amnesty International Group, Jane Andreae, said: "We are delighted to be part of this amazing festival. We have collaborated closely with Stamford Arts Centre and others on this and hope to inform, educate and engage local people about the meaning and breadth of social justice. To have the backing from Amnesty International UK on this makes it a significant event for Stamford and Rutland."
As part of the wider festival, Stamford and Rutland Amnesty Group is planning various online events from 19th – 30th May including a festival-opening digital exhibition from journalist and freelance photographer Eddie Botsio, entitled 'Truth to Power'; curated by Emma Bowkett, Director of Photography Financial Times FT Weekend Magazine and funded by the Arts Council England. There will also be a Chile in Focus launch event with Stamford Shoestring Theatre Company, and a Q&A with Chilean activists discussing their experiences and Amnesty International's 'Eyes on Chile' report. Other online events include a social justice edition of Pint of Poetry, a talk from Hope for Justice on Modern Day Slavery; extreme athlete Dan Martin on 'The Kindness of Strangers'; and a Q&A with Stamford Anti-Racism Group's Louise Thomson exploring the US Death Penalty, Race and Criminal Justice.
Member of Stamford and Rutland Amnesty International Group, Harriet Wills, said: "This is a really exciting event for Stamford and Rutland. We have so many local community groups, organisations and individuals coming together under the social justice umbrella for this festival; there is a really strong sense of community spirit. We hope everyone enjoys our wide-range of events and learns more about social justice in the process."
Amnesty International campaigns for human rights and justice across the globe and has 10 million members and supporters. Founded in London in 1961, Amnesty International this year celebrates its 60th anniversary. The group campaigns for social justice in all its forms.
Festival organiser Ian Myson said: "Promoting social justice is about promoting equality, freedom, diversity and human rights for everyone no matter who and where they are. We hope this festival will encourage more people to become involved in campaigning for social justice and human rights."
All scheduled events for the Festival of Social Justice are free. Tickets and registration information will be released here: https://www.amnesty.org.uk/groups/central-england
And follow the festival on Facebook - @StamfordandRutlandAmnesty Twitter - @AmnestyStamford and Instagram - @amnesty_stamfordandrutland with the hashtags #SocialJustice #SpeakOutForSocialJustice
---
EVENTS:
Click on the titles to find out more!
From Tues 18 May - TRUTH to POWER Exhibition
From Weds 19 May - Virtual Social Justice Showcase
Weds 19 May - Chile in Focus
Fri 21 May - A Fellow Traveller
Sat 22 May - The Kindness of Strangers
Mon 24 May - Stories and Poems from the New Wars
Tues 25 May - The US Death Penalty, Race and Criminal Justice
Wed 26 May - Pint of Poetry: Social Justice Edition
Thu 27 May - Modern-Day Slavery: Hidden in Plain Sight